Well, I'm getting better.
For those of you who don't know about my saga to make kappa maki, let me give you a brief history.
Have you ever been so obsessed with a show/book/movie that you want to try one of the character's favorite foods? No? You won't be able to relate to this.
I have. Kappa maki (basically cucumber sushi—rice and cucumber all rolled up) is a food that has a special meaning in my obsession, Saiyuki. Anyways, I wanted to try it. I noticed it on the menu at a restaurant and ordered it. I loved it. So, then I just HAD to learn to make it.
I'm not going to go to Sushi Chef School just to learn to make one dish. So, I worked off memory and tried to reverse engineer how to make it. (This will be referred to as mistake number one.) Nori, you say? Bamboo mat, you say? What is this strange alien tongue you speak? Mistake number one ended up in an attempt to use a wet bread cloth to roll the rice and CUBED cucumber. Needless to say this fell apart.
Then, I ordered it again and noticed the nori. I went a local Asian market and found the sheets of nori. How many freaking ways can seaweed get pressed into a sheet? I picked one that had pictures on the back and that's where my "formal" training started and ended. This will be known as Mistake Number Two. One of the things I learned at my school, Mistake Number Two, is that there's a mat used to keep the rolls tight. I wandered around the store (because I'm too stubborn to ask someone a question) and almost bought a bamboo table mat. The woman saw the nori and bamboo table mat in my hands and shook her head. She snickered at me under her breath (I deserved it) while she took me back to the nori and showed me a simple sushi starter set that contained not only a bamboo mat, but a rice paddle.
Armed with my uber-leet tools (nori, bamboo mat, rice paddle) I headed home and proceeded to get bits of rice stuck between the sticks in the bamboo mat, squished my rice and MATCH STICK cut cucumber all over the place. BUT! The huge rolls, once cut, stayed together until I bit into them.
Progress.
Then I got creative. This will be referred to as Mistake Number Three. Mistake Number Three led to the inclusion of avocado, crab meat, and all just about anything that I remotely remembered anyone mentioning being rolled in rice that I could also get my hands on and wasn't raw fish. I also figured out that that putting plastic wrap over the bamboo mat made easy clean up.
I learned to cut the rolls into bite-sized pieces. The more I made it, the easier and quicker it became.
Fast forward a few months and I have this…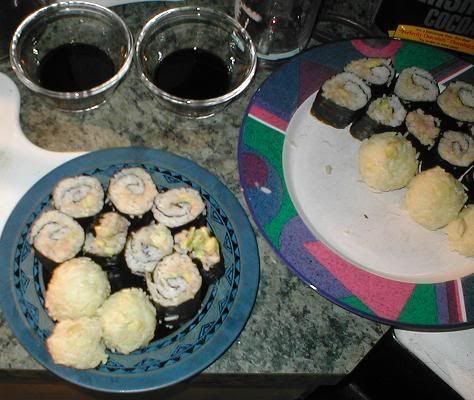 The stuffing is avocado, crab meat, garlic, pepper, and a tiny bit of soy sauce. I ran out of crab meat and decided to give avocado rice balls a try. A mold to make rice balls? What is this alien tongue you speak? I don't even know if my "recipe" is real or not, but it was pretty tasty. I think this brand of nori is fairly strong and I'll try another brand next time.
At least this time, it LOOKS right. XD
Yes, that is a Garfield glass in the background. Don't hate the Garfield.